Owners of strata property in Malaysia are required to pay a monthly property maintenance fee. These funds are utilised for the upkeep of common areas in the property. We will also find out why owners have to pay maintenance fees and how it is calculated.
When the term 'strata' was first introduced in Malaysia via the Strata Title Act 1985, strata property consisted of mostly high-rise residential and commercial units – including flats, apartments, condominiums, serviced apartments, Small Office Home Office (SOHO), Small Office Flexible Office (SOFO) and Small office Versatile Office (SOVO). The Act was later modified to include some landed properties where the development has shared facilities and amenities, such as gated and guarded communities.
In an effort to provide clearer and more stringent provisions on the management of stratified properties in Malaysia, the government implemented the Strata Management Act (SMA) 2013 in 2015. 
What is maintenance fee in Malaysia?
Facilities and common areas within a strata property such as a condominium block are jointly owned by all unit owners. Therefore, owners have to collectively pay a maintenance fee, also known as a service charge, to manage and maintain the property and its facilities.
In Malaysia, homeowners are required by law under SMA 2013 to pay these monthly fees. These fees are collected and managed by the Joint Management Body or JMB before the issuance of strata titles and by the Management Corporation or MC after strata titles have been issued.
What do maintenance fees cover?
The maintenance fee is mainly used to cover recurring costs of managing and maintaining the property including:
The hiring of security guards
Property management and administration staff
Electricity and water for common areas such as lifts, car parks, swimming pools and gyms
Cleaning services
Landscaping services
Servicing of lifts and escalators
Minor repair works on common property
Imagine a high-rise condominium with many units – if the owners do not pay their condo maintenance fees on time, how would these bills get paid and who will manage and guard their property?
Besides maintenance fees, owners also need to pay a monthly sinking fund. Calculated at 10% of the maintenance fees, these monies will be put into a reserve fund for emergencies such as damage caused by flood and major works such as painting the building exterior.
How are condo maintenance fees calculated?
The main factor that determines a property's maintenance fees is the total expenditure for running and maintaining the property. Prior to the SMA 2013, contributions to the sinking fund and monthly maintenance service charges payable by strata owners were calculated based on the built-up size or per square feet (PSF). SMA now calls for share unit to be used instead as a basis for calculating these two charges – rather than simply the floor size of the unit owned.
The formula for calculating Maintenance fee to be paid: Operating expenditure ÷ Total share units in condo development 
So what is a share unit? Under SMA 2013, a property developer is required to file a Schedule of Parcels with the Commissioner of Building (COB) before selling any parcel in a development.
A Schedule of Parcels is essentially a 'floor plan' that shows the overview and floor measurements of the parcels in a development. In the case of a phased development, the schedule must showcase the proposed allocation of the provisional share units among the new parcels in the provisional block. It will include all the parcels with dimensions, areas, share units, all accessory parcels and common properties.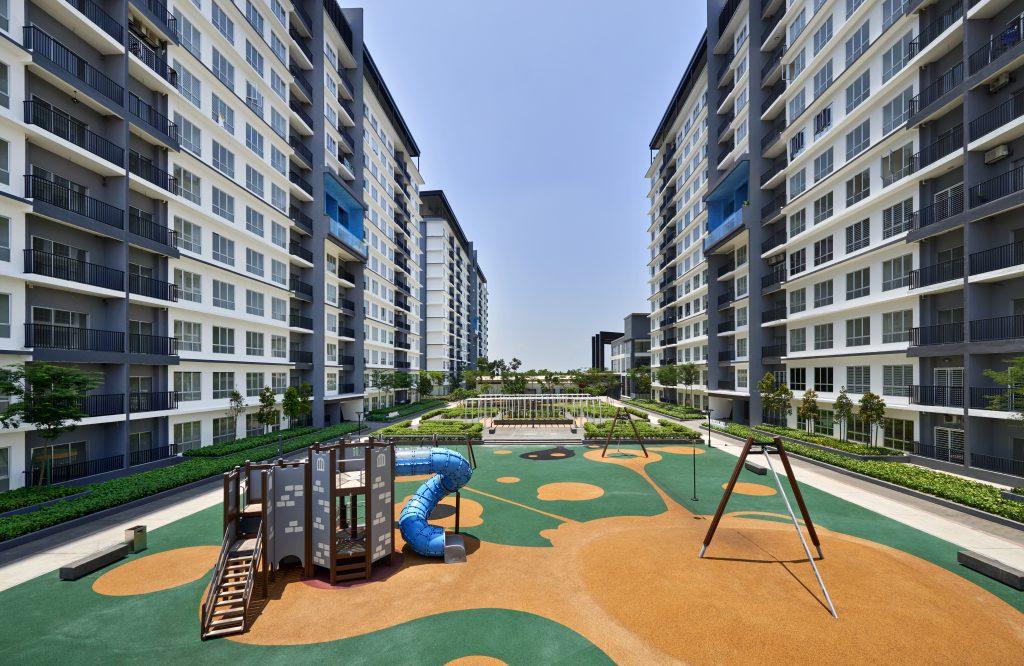 Share units are the numbers assigned to each parcel by the developer's licensed land surveyor that will determine maintenance charges, sinking fund and voting rights of each owner. Share units are calculated based on area, usage, size and location of the accessory parcel using the formula prescribed under the relevant strata title rules of each state.
In the calculation of share units, a different weightage is assigned based on the facilities that are enjoyed by the parcel. For example, a parcel with walk-up stairs will have a different weightage than a parcel with air-conditioned lifts.
What is the range of typical property maintenance fees in Malaysia?
The expenditure for managing and maintaining a property varies depending on the following factors:
Level of services: Owners, JMB and MC of a building need to decide on an "acceptable" level of service. For example, the number of guards on each shift or the number of times the corridors is swept.
Type of facilities: The more sophisticated the facilities, the higher the maintenance fees
Size and type of common area: A swimming pool with elaborate landscaping will cost more to maintain than a small park with a walking path
The density of the development: The cost is divided among units so owners in a high-density property will end up paying less. For example, Condo A has 100 units and Condo B has 50 units with similar facilities and built on similar land sizes. Both condos will have similar expenditures. However, owners of Condo A will end up paying less because the cost is shared between 100 owners while Condo B shares the cost between only 50 owners.
According to Henry Butcher Malaysia Managing Director Low Hon Keong, the rate of maintenance fees mostly depends on the type of facilities and the density of the development.
The average rate of maintenance fees in the Klang Valley is between 25 to 50 cents per square foot. Properties in prime areas like KLCC or Bukit Bintang incur higher fees because of its location.
"Most of the properties in these areas are high-end projects with sophisticated features like high-speed or personal lifts, advanced security and nice landscaping. These advanced facilities cost more to maintain., hence why the maintenance fees are higher. They could be paying an average of 50 cents per square foot," said Low.
He said that maintenance fees were not necessarily lower in smaller cities or towns.
A property in Melaka might in fact have a higher maintenance fee than a similar unit in Kuala Lumpur because there are fewer units in total, so the cost is shared between fewer owners.
Security accounts for a big portion of incurred costs in managing high-rise residential buildings while in landed strata properties, the cost of landscaping is quite significant. Unlike regular landed properties, the local council is only responsible for waste collection in landed strata properties – cleaning, landscaping and maintenance of common areas are taken care of by the property management of strata schemes.
The average maintenance fees of landed strata property in Malaysia are:
RM1,000 to RM1,500 for bungalows
RM600 to RM1,000 for semi-detached houses
Below RM500 for terrace houses
Can you negotiate your maintenance fees?
Technically, you can't negotiate the maintenance fees. The management fees are decided by the JMB or MC during their Annual General Meetings (AGM). The only way for the rates to change is to raise this issue during an AGM and get the majority of owners to agree and vote for it. Therefore, it is important for homeowners to attend their AGMs so that they won't be surprised by any changes in rates.
However, if you find that the services provided are not reflective of the maintenance fees charged, you can question the management. Unit owners have the right to view the statement of accounts and can make a request to the JMB to do so for a fee not exceeding RM50. To find out if the people elected to represent owners in your strata property are responsible, read Is your strata property being managed by the right JMB or MC?
Who pays the maintenance fees for rental properties?
By law, it is the landlord (homeowner) who pays the maintenance fees. Any special arrangement for payment of maintenance fees, where the tenant pays it on behalf of the landlord as part of the rental fees, needs to be reflected in the tenancy agreement. If the landlord fails to pay the maintenance fees, the tenant can take legal action or decide to terminate the rental agreement.
Strata residents must be aware of their responsibilities and obligations as well as strive to take charge in order to protect the very investment that they live in. Find out what happens when you don't pay your outstanding condominium fees.