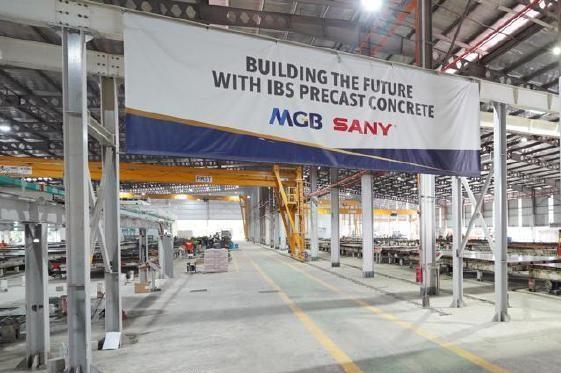 We are in the midst of witnessing a growth dynamic in Malaysia. It is estimated that Malaysia's
population has increased to 33 million as at 23rd March 2023. With approximately half of all
Malaysians below the age of 30, the need to provide quality affordable housing is tremendous.
The question to be asked is: What is the solution for all this?
MGB Berhad ("MGB") has unlocked such doors. An established construction player with a
strong track record for shaping the nation for over 10 years, MGB addresses urbanisation by
developing affordable and quality housing of the highest standards in high-rise developments
and landed properties. This is driven following the adoption of Industrialised Building System
(IBS) using precast concrete in its construction and development.
IBS precast concrete is an innovative and sustainable construction technique. The
components are manufactured in the factory, then positioned and assembled into structures
with minimal additional site work. The advantages of IBS precast concrete are often qualitative
rather than quantitative. It is anticipated that the use of IBS precast concrete has resulted in
33% savings on construction time, 31% savings on labour and overall, a 49% reduction in total
on-site labour cost. In light of the labour shortage facing the construction industry over the
past few years, the use of IBS precast concrete has alleviated the worry. In addition, with less
wastage, simpler logistics and less materials used in construction sites, it contributes towards
MGB's environmental initiatives.
MGB first ventured into the IBS space in December 2017 through a joint venture with Sany
Construction Industry Development (M) Sdn. Bhd (a subsidiary of China-based Sany Group
Co Ltd). Upon the establishment of the joint venture, it deployed its first mobile IBS plant at
LBS Alam Perdana township in 2018. A year later, MGB opened its first permanent IBS
precast concrete plant in Nilai. Together, the two plants are capable of producing 6,000 units
of properties annually.
"We are driven by technological innovation and constantly searching for ideas to deliver quality
housing in a timely manner whilst managing costs. That turned our attention to IBS precast
concrete," said MGB Executive Vice Chairman, Tan Sri Lim Hock San.
MGB was first exposed to the idea of IBS through roadshows and discussions with business
partners. The IBS precast system is adopted by many developed countries like Singapore and
China. Due to its market size, it is unsurprising that China is known to be one of the world's
largest IBS precast system providers. It took multiple rounds of discussion before deciding to
forge ahead with the idea after having found a synergistic partnership with the Sany Group.
"Our venture into IBS was received with pessimism at the beginning, largely due to the
substantial CapEx involved in building an IBS plant. Our mobile and permanent IBS plant costs
us RM60 million but I am pleased to say we are reaping the benefits from our early foresight.
We are driven by technological solutions and constantly searching for opportunities that push
boundaries and surpass expectations through quality, reliability and innovation," he further
added.
LBS Alam Perdana is a proven testament to the benefits of IBS precast concrete with homes
being delivered 6 months ahead of schedule. Comprising 673 units of double-storey terrace
houses, the initial two phases of township were the first LBS projects built by MGB using IBS
precast components. Thus far, MGB has completed 6,000 properties using IBS precast
concrete, and in our pipeline, we are looking at completing more properties and are set to
increase the number of completed properties to 10,266 units by the end of 2023. In fact, all
Rumah Idaman MBI under MGB's purview has been built using IBS precast concrete.
Looking ahead, MGB will continue to adopt IBS precast concrete, as it believes that it serves
as an ethical foundation to achieve long-term business success for MGB. Goals are in the
pipeline to increase investments in automation to speed up efficiency and reduce costs. As a
step forward, MGB is venturing overseas as it has signed a Memorandum of Understanding
with SANY Alameriah For Construction Co., Ltd in January 2023 to operate a precast concrete
factory located in the city of Jeddah which is envisioned to supply 690,000m3 precast concrete
products. Coupled with the hope of seeing increased adoption of IBS across the construction
industry, MGB is on a steady footing ahead of the pack in the construction of developments
using innovative solutions.
-End-